A Journey to Discover Japan's Old Lifestyle
Traveling to Kyoto or Nara is a great way to experience the charm of traditional Japanese cities. But if you are interested in such Japanese traditions, we recommend that you travel not only to cities, but also to rural villages and fishing communities.
The following three villages are among the first to be recommended as traditional Japanese villages. If you can fit them into your itinerary, please do not hesitate to visit them.
Points to keep in mind when planning your itinerary
The traditional villages introduced below are all located in mountainous areas where transportation is not convenient. For this reason, unlike sightseeing in urban areas such as Tokyo and Kyoto, there are several points to note.
Keep in Mind Colder Weather Than Urban Areas
Even when Tokyo, Osaka, Kyoto, and other urban areas have mild weather, mountainous regions tend to be colder and have unpredictable weather. Depending on the season, consider packing items like coats and gloves to stay warm.
Anticipate Possible Train and Bus Delays
While trains and buses in Japan are known for their punctuality, weather-related delays can occur in mountainous areas. Given the unpredictable weather conditions in these regions, it's advisable not to schedule your travel itinerary too tightly. Allow some flexibility in your schedule to account for potential delays.
Shirakawa-go (Gifu Prefecture)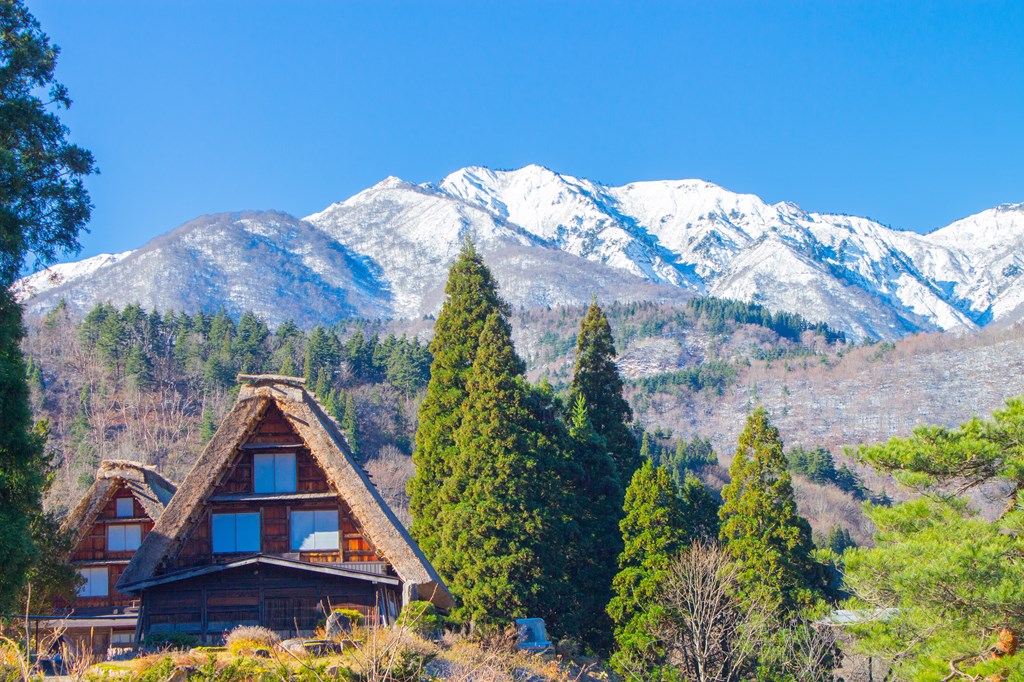 Highlights
A beautiful village representing Japan, registered as a World Heritage Site.
Address
1086 Ogimachi, Shirakawa Village, Ono District, Gifu Prefecture, 501-5627 Japan
(Shirakawa-go Bus Terminal)
Access
It takes approximately 1.5 hours by express bus from Kanazawa and Toyama. It takes 2 hours by express bus from Nagoya.
Official Website
https://www.vill.shirakawa.lg.jp/en/
Nearby Sightseeing Spots
Takayama, Gokamura, Hida Furukawa, Gero
Shirakawa-go is a beautiful traditional village that, along with its neighboring Gokayama villages, is designated as a UNESCO World Heritage Site. Located in one of Japan's heaviest snowfall regions, the village is known for its distinctive steep-thatched roofs designed to withstand the weight of heavy snow. The sight of approximately 100 houses with these thatched roofs is truly breathtaking, leaving visitors speechless. Especially in January and February, when heavy snowfall blankets the area, it becomes a pristine white wonderland.
Due to its remote location, access to Shirakawa-go is quite limited. It is recommended to use high-speed buses from cities like Kanazawa, Toyama, or Nagoya. You can also take a bus from nearby Takayama to reach Shirakawa-go.
For more information about Shirakawa-go and nearby Hida Furukawa, please refer to the following tour articles.
>>Private Tour of Shirakawa-go and Gokayama from Kanazawa
>>Hida Furukawa Bicycle Tour: Enjoy the beautiful scenery of the Japanese countryside
大内宿(福島県)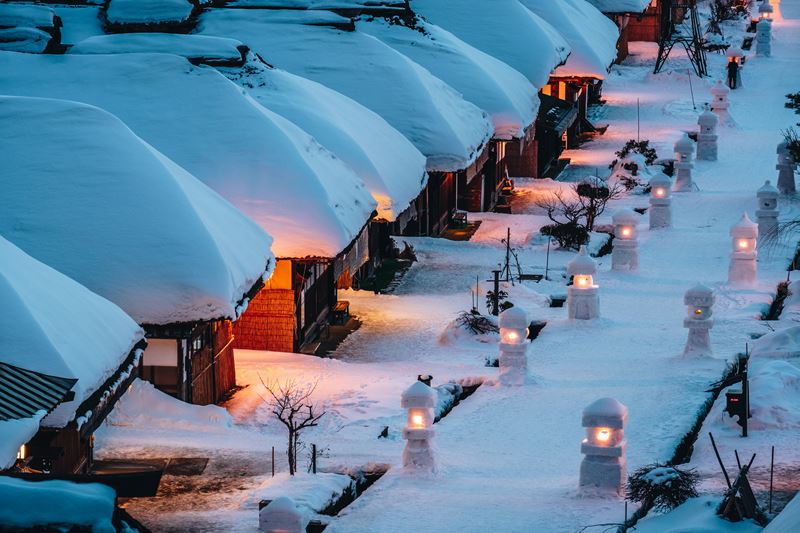 Highlights
One of the most beautiful traditional villages in Eastern Japan
Address
Aza Yamamoto, Ouchi, Gomachi, Minamiaizu-gun, Fukushima 969-5207
Access
Access to Ouchi-juku: From Tokyo, it takes approximately 4 hours with train and bus connections.

Option 1:

Take Tobu Railway from Asakusa Station to Shin-Fujiwara Station.
Transfer to the Yagan Railway and go from Shin-Fujiwara Station to Aizu-Kogen-Oze-Guchi Station.
From Aizu-Kogen-Oze-Guchi Station, take the Aizu Railway to Yunokami Onsen Station.
Finally, take a bus for 20 minutes to reach Ouchi-juku.

Option 2:

Take the Tohoku Shinkansen from JR Tokyo Station to Koriyama Station.
Transfer to the JR Ban'etsu West Line and travel from Koriyama Station to Aizu-Wakamatsu Station.
From Aizu-Wakamatsu Station, take the Aizu Railway to Yunokami Onsen Station.
Then, take a bus for 20 minutes to reach Ouchi-juku.

Official Website
https://ouchi-juku.com/detail/622/index.html
Nearby Sightseeing Spots
Aizuwakamatsu City
Ouchi-juku may not be as famous as Shirakawa-go, but if you're looking for a traditional Japanese village in the eastern part of Japan, we recommend Ouchi-juku.
Ouchi-juku thrived as a post town during the Edo period. Today, over 30 thatched-roof houses still stand, preserving the atmosphere of that time. A visit to Ouchi-juku is like stepping back in time to the era of samurais.
To reach Ouchi-juku, head to the nearest station, Aizu Railway Yunokami Onsen Station. It's about a 20-minute ride from Yunokami Onsen Station to Ouchi-juku. There are small inns like "Iseya" with thatched roofs in Ouchi-juku.
For more information about Ouchi-juku, you can refer to the tour articles below.
>>Enjoying the Samurai Era at Ouchi-juku, Fukushima Prefecture (guided tour)
Miyama-cho(Kyoto Prefecture)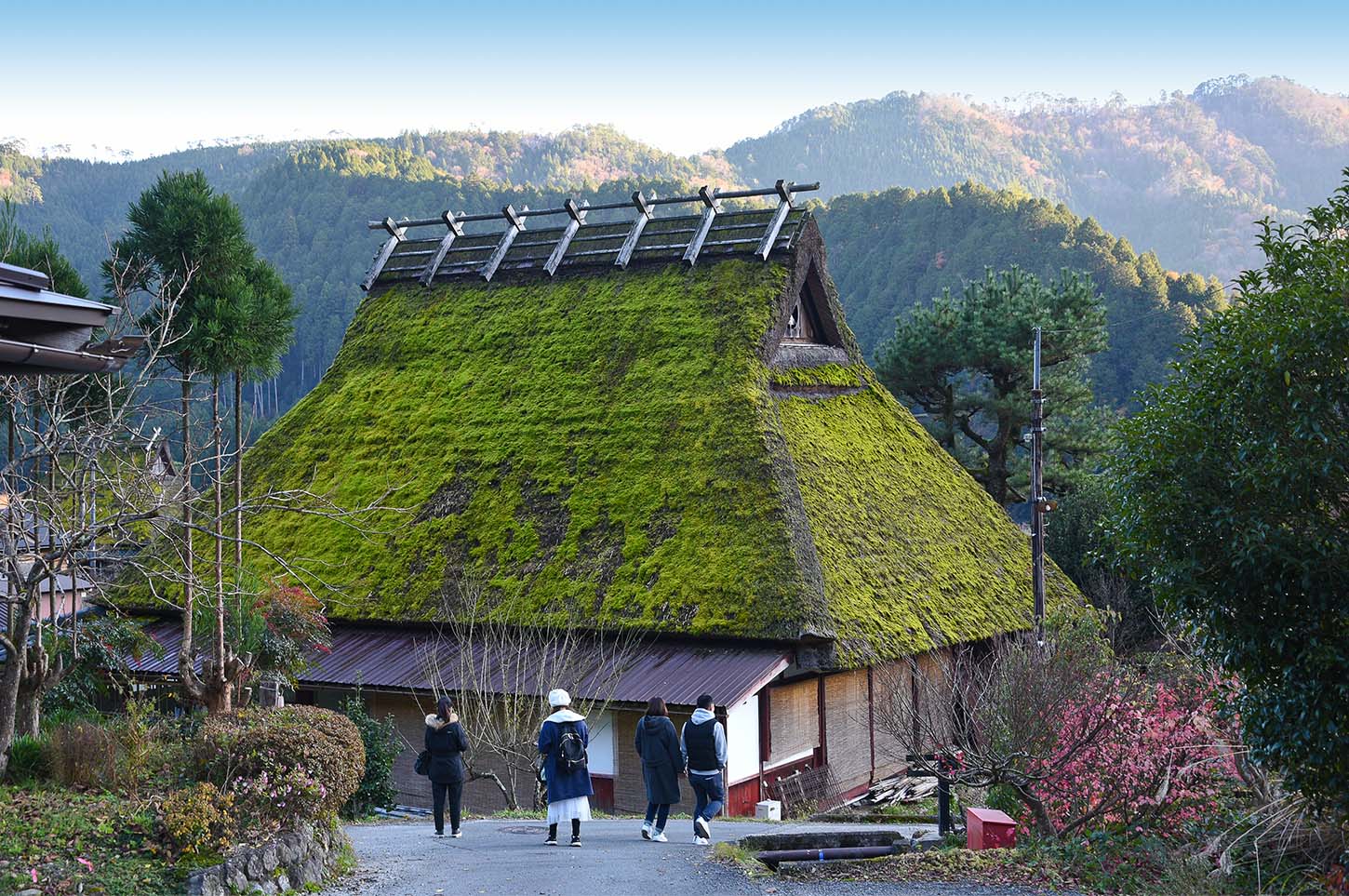 Highlights
It is possible to take a day trip from Kyoto.
Address
Miyama-cho, Nantan-shi, Kyoto-fu, Japan 601-0722
Access

Take a direct bus from various locations in Kyoto city, such as Shichijo Keihan, JR Kyoto Station, or Nagaokakyo. The bus ride takes approximately 110 minutes.
From JR Kyoto Station, take the San'in Main Line to Nisseki Station. Then, take a local bus operated by Nantan City to "Kita" in Miyama-cho Kayabuki no Sato. The total travel time from Nisseki Station to Miyama-cho is approximately 45 minutes.

Official Website
https://miyamanavi.com/en/
Nearby Sightseeing Spots
Kyoto
If you're traveling in Kyoto or Osaka and looking for a traditional Japanese village to explore, consider visiting Miyama-cho in Kyoto Prefecture. Unlike Shirakawa-go, which is quite a distance away, Miyama-cho offers a day trip option from Kyoto.
In Miyama-cho, there is an area known as "Kayabuki no Sato," where traditional thatched-roof farmhouses are clustered together. This area provides a glimpse of a beautiful, old-world charm distinct from the elegant world of Kyoto city. Keep in mind that Miyama-cho is cooler than Kyoto city, so dress accordingly.
To get to Miyama-cho, you can take a direct bus from Kyoto city, which is a convenient option. However, please note that during the off-season, such as winter, bus services may not be available. In such cases, it's recommended to consider tours that offer private transportation from Kyoto city to Miyama-cho, as they can be a convenient choice.
>>One-day tour from Kyoto to visit a thatched village in Miyama-cho