[Initiatives for Tourism Across Japan]
The term "市" (ichi) historically referred to a place for buying and selling goods and has been held throughout various regions in Japan. It was a place where not only goods but also a lot of information was exchanged. This time, we introduce the "Nennoichi" (Yearly Market) in Fukui Prefecture, which has been held since the Edo period.
Katsuyama Nennoichi The "Katsuyama Nennoichi" has been held since the Edo period. In the past, amateur merchants from nearby households would set up stalls and sell various items such as household decorations for gods and Buddhas, lucky charms for the New Year, kitchen utensils, and everyday tools produced as a side business by farmers. The current Nennoichi features shops selling wooden crafts, folk crafts, local products, and more.
Event Period: January 29, 2023 (Sunday) * Last Sunday of January
Location: Katsuyama City Honmachi Street
Official Website: http://www.city.katsuyama.fukui.jp/・・・/kankouweb/index.html
(This is a photo from a previous event.)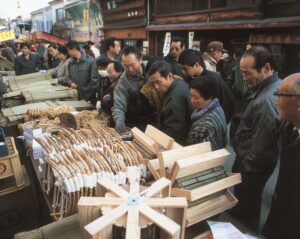 #japan_of_insta  #instagramjapan #ilovejapan #japantrip #japantravel #thesticks #urbanromantix #citykillerz #discoverjapan #streetactivity #bestjapanpics #explorejapan #stayandwander #unknownjapan #japanadventure #streetshared #streetmagazine #monja #monitor-japan #monitorjapan